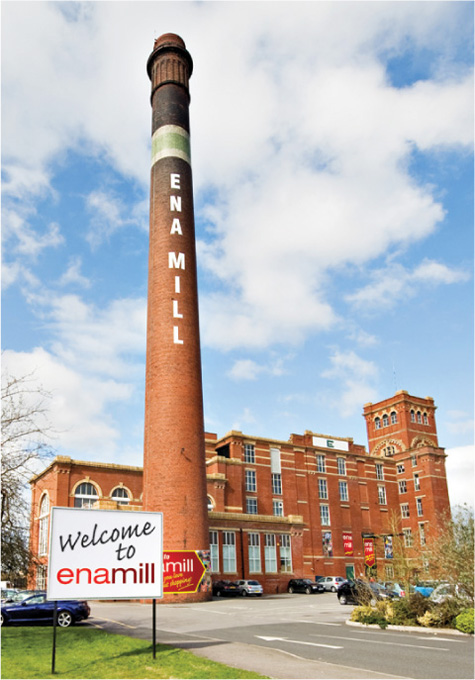 The Perfect Shopping Experience in the Heart of the North West
We've created a wonderful retail outlet located in a beautiful Grade II listed mill right in the heart of Lancashire. A place where high street prices are nowhere to be seen and a shop that's full of your favourite well-known brands. You'll certainly know the names it's the prices that won't be too familiar!
A trip to Ena Mill is a
must for everyone who loves shopping.
Retail TherapyMore bargains than ever. We know our customers love to save money – and enjoy finding something special that's why we invest loads of time and effort finding the very best brands at the best prices.
There's something for everyone at Ena Mill.
For Him, For Her, For The HomeFashion, footwear, jewellery & accessories, bedding, home goods, gifts, lighting, books, soft furnishings, handbags, luggage, menswear, lingerie, toys and much much more. You'll find all sorts of unexpected items at truly remarkable prices.
For the Family A visit to Ena Mill is a genuine day out. Famous brand names offering top quality and fantastic value for money – that's our policy and that's exactly what you'll find whenever you visit, plus there's always the extra special offers such as our seasonal savings events that take place all year round.
Relax Catch your breath and enjoy a nice cuppa, fresh sandwich or treat yourself to a slice of cake in our authentic Italian coffee shop.
Traditional Lancashire Setting Ena Mill is a magnificent example of our industrial heritage and is ideally located for easy access from every direction and with our huge FREE car park right outside the front door visiting us couldn't be easier.
We are dedicated to giving you exceptional value on every single item so you can expect to find genuine bargains all around the store.
Being located in this beautiful Mill means the original open-plan layout is perfectly suited to a retail environment. So with over 200 brands packed into 45,000 square feet you'll literally get a real sense of space as you browse our various departments.
Opened in 1908, Ena Mill is reputedly named after a Spanish Queen and is classic example of the type of cotton spinning mill that prevailed at that time. By the 1960's production of cord yarn was running a record levels with workers operating the machinery day and night to cope with demand. Manufacturing ceased in the late 1990's and the mill was then used primarily for warehousing and distribution up until 2010.
Business owners Simon Yates and Jonathan Addis recognised the importance of preserving the fantastic Grade II Listed building and therefore the need to breathe new life into it. In January 2011 they came up with the concept of developing the site as a major retail destination and in April that year the Ena Mill project commenced with a team of builders carrying out substantial work to open up the ground floor and making it suitable for retail.
In September 2011 Ena Mill opened to the public with an initial 30,000 sq. ft. of retail space and the expansion plans began almost immediately. The huge ground floor area is now 100% open and is one of the largest retail spaces in the country with over 200 brands packed into 45,000 sq.ft. You'll literally be spoilt for choice whether it's gifts, home goods or fashion - there's so much to see and so many savings we hope you'll love your Ena Mill experience.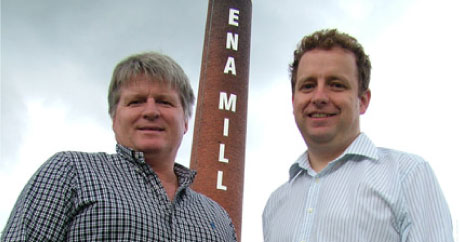 Above Simon Yates & Jon Addis "we took the biggest gamble of our lives with this project but the response from the North West public has been wonderful."