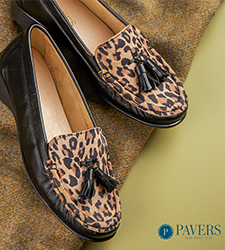 Pavers Shoes, Your Style Adventure Awaits
Prepare for the autumn winter months and fill them with cosy comfort. Layer up with the must-have footwear essentials from Pavers Shoes and discover expansive collections carefully crafted with cloud-like comfort and timeless style for autumn, winter and beyond.
Refresh your shoe collections for your smart and casual occasions, wrap up with fleece lined boots for the ultimate winter warmer and sink into memory foam insoles for unbeatable comfort. Relax and unwind with cosy slipper styles to keep toes toasty and step up your active wear with trainers innovated with comfort technology.
Pavers shoes offer a wide variety of footwear styles for your smart or casual occasions, available in extended UK size ranges from 2-10, standard to extra-wide fits in an array of colour options with matching accessories too! Shop top brands including Skechers, Van Dal, Reiker, Fly Flot and Gabor… Discover all this and more with savings of up to 30% off RRP!
Pavers - Your Perfect Style
We are constantly updating our website with the latest offers and products but cannot always guarantee to have every single item in stock, therefore if you are planning to visit Ena Mill to purchase a specific brand or item please call our customer services team to avoid any disappointment.
Call us on 0844 576 1470