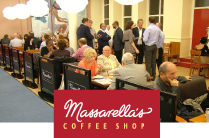 Relax and have a cup of tea
Fancy a break from your shopping, why not have a spot of lunch in our fantastic coffee shop. Massarella's offers a good selection of hot and cold snacks and drinks and don't forget to pick up your customer loyalty card at the counter. Every Thursday is Senior Citizens Day so pop in for some lunch or a drink and get 20% off your bill. While you're here make sure you say hello to Travis our friendly coffee shop manager!
There's always something new to see...
If you really enjoy shopping and browsing and mooching and checking out all the latest products, and if your idea of fun is picking-out a brilliant bargain – you're going to love Ena Mill.
There's so much to see, so many fantastic savings and thousands of new and unique offers all around our gigantic store. When we were originally planning and creating the Ena Mill experience: We wanted to squeeze hundreds of well-known brands all together into our large ground floor setting • keep our prices consistently low all year round provide a warm friendly atmosphere where shopping is relaxed and comfortable. As the store has developed we've added more & more brands , extended the retail floor space, increased the range of products, improved the layout of the store and generally made Ena Mill better - & better – and we've only just started. There are some really exciting plans in place for making our Mill the best it can be. We already know that customers enjoy their day-out when they come to see us – we just want to keep improving and giving you more and more. So next time you're planning a shopping trip – put Ena Mill on your list, we guarantee you'll enjoy the experience, in fact, You'll love It

LESS MOBILE?
We're here to Help
Customers who are less mobile will find that Ena Mill is conveniently situated on a large ground floor area totalling 45,000 square feet and therefore offers fantastic access for wheelchairs and Motability scooters. There are no steps or stairs to worry about and our Massarella's coffee shop is also well set up to cope with wheelchairs. We also have good disabled toilet facilities. In addition to this we also have 3 wheelchairs available on site which customers are welcome to use, should you wish to avail of this free service it is advisable to book in advance and we will happily reserve a wheelchair for you, just call us on 01942 882406 a couple of hours before your arrival.
Ena Mill
Gloucester Street, Atherton
Lancashire
STORE OPENING HOURS:
OPEN SEVEN DAYS A WEEK
Monday - Saturday 10.00am - 5.00pm
Sunday 11.00am - 5.00pm
(browsing from 10.30am)
HOW TO FIND US
Ena Mill is located in Atherton (M46 0HB) on the junction of Flapper Fold Lane and Gloucester Street (directly behind the Fire Station and across the road from the Police Station). Atherton is situated between Wigan and Bolton and is easily found from the main motorways and the East Lancs Road (A580).
FROM THE EAST LANCS ROAD – take the A579 signposted Leigh and Pennington Flash. Stay on this road and continue onto Atherleigh Way. You will come to a roundabout with a silver sculpture, turn right onto the A577 following the signposts for Atherton (The Talbot pub will be on your right hand side). At the next roundabout take the second turn onto Gloucester Street. Continue through traffic lights and turn immediate left past the Fire Station. Ena Mill is on your left.
FROM THE M61 SOUTH BOUND – Exit the motorway at Junction 5, take third exit onto the A58 signposted Westhoughton. At the Chequerbent roundabout stay on the A58 taking second exit signposted Westhoughton. After approximately half a mile turn left onto Platt Lane. Continue on this road until you come to a mini roundabout, take left onto North Road/Bag Lane. At traffic lights take left onto Gloucester Street. Turn immediate left just past the Fire Station. Ena Mill is on your left.
FROM THE M61 NORTH BOUND – Exit the motorway at Junction 4, at roundabout take first exit and then at next roundabout second exit onto the A6 signposted Wigan. At traffic lights turn left onto Newbrook Road (A579). Continue onto Bolton Road, continue through traffic lights passing Atherton train station on the right. At next lights turn right onto Gloucester Street and follow the road round to the left. Continue straight ahead and you will see Ena Mill in front of you.
For a great day out why not call at Ena Mill. Whether you are a regular visitor or new to Mill Store Shopping, you will always find something new and exciting to tempt you. You can call our dedicated group bookings team to help advise and arrange your visit. They are really helpful and at your service! Call 01942 882 406 Mon - Fri