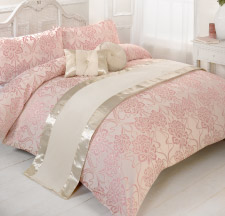 Home & Living
A visit to Ena Mill would not be complete without a walk around our impressive Home and Living department.
Pride of place is our bedding department with 20 display beds and a huge selection of bed linen and filled product from leading brands like V&A, Sanderson, Hotel, Belledorm, Thomas Frederick and Rectella. These are just some of the curtain, bedding and textile brands to be found at Ena Mill, giving style, choice and unbeatable value for money. If you're giving your home a much needed makeover then our lighting and mirror department is full of great ideas that will give you inspiration. And we've got a great selection of the ever popular Tiffany style of lighting as well as liquid art, canvases and a massive selection of prints. You will also love our great selection of home and kitchen accessories, we've got everything from cookware to crystal and wicker ware to electrical goods from leading brands like Kitchen Craft, Melamaster, Creative Tops, JVL, Russell Hobbs and Dartington Glass..
We are constantly updating our website with the latest offers and products but cannot always guarantee to have every single item in stock, therefore if you are planning to visit Ena Mill to purchase a specific brand or item please call our customer services team to avoid any disappointment.
Call us on 01942 882 406
Aroma Home Ltd

Art Group

Belledorm

Broomhill

Cache Designs

Candlelight

Chortex

Colorhouse Lighting

Dartington Crystal

DK Electrical

DK Homewares

Fine Interiors

Harbenware

Homestyle Blinds

Hotel

JVL

Kenwood

LDT Flowers

Melamaster

Morphy Richards

Nauticalia

Rectella

Royal Brierley Crystal

Sanderson

Sporting Memorabilia

Swatch Box

The Milford Collection

The Rug Collection

Tommy F

V&A

Vanilla Silk Flowers

Wahl

Yankee Candle